Training to become a phlebotomy technician in the state of New Mexico will lead to an extraordinary and fascinating career.
As a phlebotomist in training, each student will learn how to perform accurate venipuncture procedures. During this period, students will also learn the importance of safety procedures and how to use phlebotomy equipment appropriately.
The knowledge learned from former training will qualify potential phlebotomists to earn a credential in the field of phlebotomy. This credential will qualify such individual to work as a professional in this field.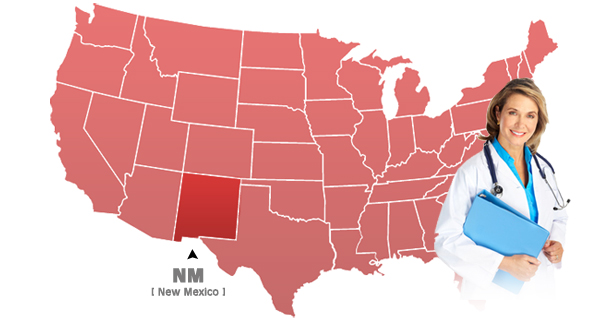 In the state of New Mexico, a school credential is the only requirement needed to become a professional phlebotomist and legally obtain a job in this profession.
Although this is the only requirement of this state, most employers expect more. Such agencies and employers only hire phlebotomy professionals who are certified through a national certification agency. These agencies include the American Society for Clinical Pathology and the National Healthcareer Association. Those who become certified in phlebotomy are believed to be well-qualified professionals and are looked upon favorably.
Schools in New Mexico
This state has many schools and programs that offer training programs to those who are interested in phlebotomy. Depending on the type of credential desired, a student can earn a certificate, diploma or a degree in phlebotomy. If a certificate is desired, the length of study can range from three to six weeks. If an individual seeks to earn a diploma in this field, coursework may range from two to six months. A degree program will usually take 24 months to complete. Upon completion, an associate's degree is earned.
[edu-search]newmexico_phleb010101083001[/edu-search]
San Juan College and Dona Ana Community College are two of the many schools that offer great training in the field of phlebotomy.
San Juan College is a school located in the city of Farmington; this is in the county of San Juan. This college offers a phlebotomy program that prepares students to work as entry-level phlebotomists. Upon the completion of this program, students are well-prepared to sit for the national certification exam.
Dona Ana Community College is a two year college that offers a course in phlebotomy. This course prepares students to specialize in the extraction of blood. A certificate is earned upon completion. This college is found in the city of Las Cruces. It is located in Dona Ana County.
Working as a Phlebotomist in New Mexico
Phlebotomists who work in the state of New Mexico can earn an average salary of $26,000. Such a professional has the option and potential to move up the phlebotomy pay scale in time, however. This change can be brought forth with an increase in education and related work experience. While seeking a job in this field, a phlebotomist must be aware of the average salary offered in some of the major cities in New Mexico. These salaries are as follows:
Average salary paid to phlebotomists in New Mexico

| | |
| --- | --- |
| City | Average Salary |
| Alamogordo | $26,000 |
| Albuquerque | $23,000 |
| Carlsbad | $21,000 |
| Clovis | $23,000 |
| Farmington | $24,000 |
| Hobbs | $20,000 |
| Las Cruces | $29,000 |
| Rio Rancho | $23,000 |
| Roswell | $23,000 |
| Santa Fe | $28,000 |
Employment Opportunities for New Mexico Phlebotomists
The opportunity to gain employment as a phlebotomy technician is great. As this profession is in high demand, many jobs are available. Employment opportunities can be found in various laboratories and medical facilities. Such facilities include public and private practices. If a phlebotomist would like to work in a blood bank, United Blood Service or Yale Plasma Donor Center may be of interest. A donor certificate is needed. To obtain a job in any of these facilities, a proper resume should help land the interview and hopefully, the job itself (see: Phlebotomist Resume Sample).