If you are interested in training as a phlebotomy technician, this is an excellent career path to choose. As a phlebotomy technician, you will be a respected professional in the healthcare community.
You will be a healthcare professional responsible for the first stages in the diagnosis of many health concerns.
The day-to-day responsibilities will include greeting patients, preparing them for venipuncture procedures and withdrawing blood for diagnostic testing.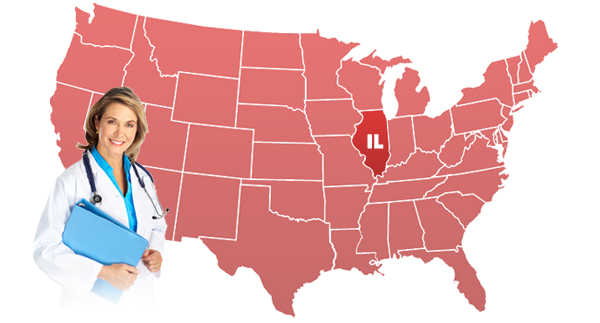 As a phlebotomy technician, you will find that this career path can be extremely exciting as it lends itself to meeting other healthcare professionals in addition to a myriad of individuals from various walks of life.
As you pursue a career as a phlebotomist in Illinois, it is important to know that you can easily obtain a certificate or an associate's degree in this field. However, to market yourself efficiently in the workforce, it is important to obtain certification from an agency accepted in this state. Although Illinois does not require licensing or certification, many employers do. This simply gives the potential employer an overview concerning your skill level prior to the hiring process.
It is advantageous for phlebotomists to seek certification immediately upon the completion of all phlebotomy courses. This state accepts certification from the following agencies:
American Society for clinical Pathology (ASCP)
American Medical Technologists (AMT)
Additional agencies include:
The American Association of Bioanalysts and
The National Credentialing Agency for Laboratory Personnel
Schools in Illinois
There are many schools in this state that offer an excellent program in the phlebotomy field of study.
[edu-search]illinois_phlebo010101082832[/edu-search]
With a variety of schools from which to choose, there are three colleges to add to your list. These colleges include:
Joliet Junior College is located at 1215 Houbolt Road, Joliet. JJC offers a great training program that includes clinical experience. The program is preparing students for certification with the ASCP.
Illinois Valley Community College is a beautiful college located in the city of Oglesby within the county of LaSalle. This college offers a six week phlebotomy course followed by a certificate upon successful completion of the program.
Moraine Community College is another college which has an excellent training program for phlebotomy students. This is a two semester program which prepares students for the certification exams available. This college is located in Rosemont, within the county of Cook.
Another college of interest is Oakton Community College. Presently, this college offers a certificate program at two locations in Cook County. One campus is located in Des Plaines and the other campus is located in Skokie. Each school offers a certificate in phlebotomy upon completion of 10 semester credit hours of coursework.
Working As a Phlebotomist in the state of Illinois
A phlebotomist working in this state can live a comfortable lifestyle based on the salary provided. Although the average yearly salary can vary by city and state, the average salary within this state is $29,000. View average salary data in some of the largest cities within this state:
Average salary paid to phlebotomists in Illinois

| | |
| --- | --- |
| City | Average Salary |
| Chicago | $31,000 |
| Aurora | $25,000 |
| Rockford | $27,000 |
| Joliet | $33,000 |
| Naperville | $31,000 |
| Springfield | $28,000 |
| Peoria | $26,000 |
| North Peoria | $26,000 |
| Elgin | $26,000 |
| Waukegan | $26,000 |
Employment Opportunities for Phlebotomists in Illinois
Employment opportunities for phlebotomy technicians are on the rise. With people living healthier lifestyles and technological innovations causing an increase in the lifespan of the average adult, people are living much longer. As the life expectancy of the average adult increases, there will always be a need for medical care. As there is a demand for phlebotomy technicians, it is common to see these healthcare professionals employed in various medical settings. These settings include medical laboratories, hospitals, clinics and private physician practices. For phlebotomists who have received their blood donor's certification, jobs are also available at various blood banks.
A few blood banks in Illinois include:
Interstate Blood Bank Inc
American Red Cross
Lifesource
The immense availability of jobs in this field clearly shows the need for these professionals in the medical community.
As a professional phlebotomist, there are numerous places to seek employment. This is especially true if certification is obtained from a reputable certifying agency. Although it is not mandatory for a phlebotomist to obtain certification in this state, obtaining one will certainly improve the probability of landing a good job. Additionally, it will lend itself towards an increase in pay with a complementary lifestyle.