If you are interested in becoming a phlebotomist in the state of Pennsylvania, you can look forward to a successful career. In order to reach this career goal, there are a few important steps that must be taken. The first step includes a search concerning an accredited school.
Upon finding such school, it is necessary to enroll in order to receive the necessary training. In a phlebotomy program, courses will include anatomy and physiology, medical terminology and venipuncture techniques.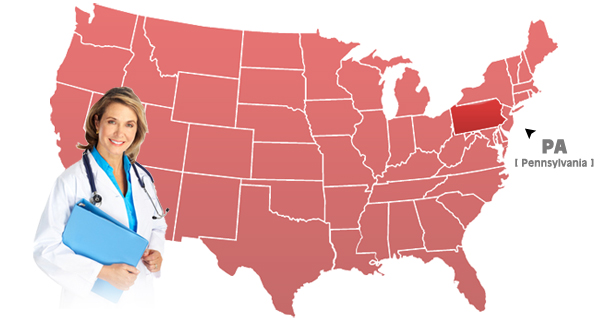 The successful completion of such program will result in a state recognized credential. This credential will allow a phlebotomy technician to legally practice his or her professional skills in this state.
A phlebotomy credential is the only requirement needed by the state of Pennsylvania. This state does not require such individuals to obtain a license. As such, professional phlebotomy technicians should be allowed to easily obtain employment in their chosen field of study. However, as these professionals seek employment, they will quickly find that their credential is not sufficient for many employers. For those who hire phlebotomy technicians, a national certification is an additional requirement needed for employment. In Pennsylvania, certification can be obtained from the American Society for Clinical Pathology, the American Society of Phlebotomy Technicians and the National Phlebotomy Association.
Finding Schools in Pennsylvania
In the state of Pennsylvania, there are many training classes for phlebotomy students. Depending on the credential of interest, a certificate, diploma or a degree can be earned. The length of each program will differ according to the credential. If an individual is interested in obtaining a certificate, this may be obtained in a four to six week program. Those who take a course lasting from two to four months are likely to earn a diploma upon completion. An associate's degree can be earned at the end of a 24 month period.
[edu-search]pennsylvania_ph010101083086[/edu-search]
While in search of a training program, McCann School of Business and Technology and Montgomery County Community College may be two educational institutions of interest.
McCann School of Business and Technology offers a hands-on curriculum that prepare students for phlebotomy positions and national certification. This educational institution of higher learning is located in the city of Allentown. It holds a seat in Lehigh County.
Montgomery County Community College is another school that assists phlebotomy students in reaching their goal. This college provides students with the necessary technical skills to allow them to work as professionals. These skills also assist students in passing the national certification exam. This educational institution has two locations, one of which is in Pottstown. This city has a seat in Montgomery County.
Working as a Phlebotomist in Pennsylvania
As a professional in the field of phlebotomy, a comfortable lifestyle can be maintained. In this state, such professionals can expect to earn an average salary of $25,000. This income, of course, will differ depending on job experience, education and training background. Before making a decision concerning the city in which you would like to work, view the following cities and the associated salaries.
Average salary paid to phlebotomists in Pennsylvania

| | |
| --- | --- |
| City | Average Salary |
| Allentown | $22,000 |
| Bethlehem | $22,000 |
| Erie | $25,000 |
| Harrisburg | $22,000 |
| Lancaster | $21,000 |
| Levittown | $29,000 |
| Philadelphia | $27,000 |
| Pittsburgh | $23,000 |
| Reading | $22,000 |
| Scranton | $23,000 |
Employment Opportunities for Pennsylvania Phlebotomists
As employment opportunities for phlebotomy technicians are excellent, these professional can quickly and easily have a wonderful career in the healthcare community. As such, many medical facilities require phlebotomy services. These facilities include inpatient and outpatient services in addition to private practices and hospitals. Blood bank facilities also require such services.
In order to work in a blood bank in the state of Pennsylvania, a DPT certification is required in addition to a standard credential and national certification. For those who are interested in seeking a career in a blood bank facility, Bio Mat, IBR Plasma Center and the Community Blood Bank of Erie are three blood banks that may be of interest. Contacting the Human Resource Department of each blood bank may lead to an interview. Before contacting any of these facilities, review your interview skills and have a well-prepared resume. These essential tools could help you land the job of your dreams.