As of November 20th drivers suspected of driving under the influence of alcohol have lost a possible escape in DuPage county, Illinois. After being pulled over, some drivers would decline a Breathalyzer test and ask for a blood test as evidence of their blood alcohol level.
They would rely on their body to process some of the consumed alcohol during the long wait for a phlebotomist to be available to draw some blood. An officer and suspect could sometimes wait hours at the hospital.
This delay could lower a suspected driver's blood alcohol percentage below 0.08, the level legally defined as intoxicated.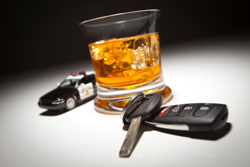 County officials have now placed a phlebotomist on call at any time of day or night. They can arrive at a police station and be drawing blood in less than an hour. This minimizes the delay between the traffic stop and testing of the blood sample. Removing that delay increases the accuracy of the test in indicating the blood alcohol level at the time of the traffic stop. Suspected drivers who ask for the blood test will also be charged a minimum of $395.00 as a fee for the phlebotomist.
The program is unique in the state of Illinois. No other county has a program like it for the time being. The program has also drawn a degree of resistance from DUI attorneys. One lawyer in particular, Don Ramsell, has stated the new policy violates a suspect's Fourth Amendment rights. He doesn't believe that a police station is sanitary enough for blood to be drawn and that violates the rule against unreasonable search and seizure. He thinks communicable diseases are too high a risk factor in a police station. State Attorney Robert B. Berlin has said the blood will be drawn according to the strict safety guidelines and protocols Illinois already has in place.
Despite the opponents of the program, there are some organizations that support the new program. Mothers Against Drunk Driving, or MADD, has praised the chance to more strongly prosecute intoxicated drivers. Susan McKeigue, director of the Illinois chapter of MADD, has stated that she is completely behind the program.
Read the original story here.