Warning
: mkdir(): Permission denied in
/home/customer/www/phlebotomytraininggroup.com/public_html/wp-content/plugins/esnplugin/esnphp/esnphp.php
on line
184
South Dakota is an excellent state in which to practice phlebotomy. As such, this state offers in-depth training for prospective phlebotomy technicians.
In-depth training in this field provides students with the knowledge necessary to perform accurate diagnostic procedures. In order to obtain such knowledge, students take phlebotomy courses that include in-class learning and laboratory training.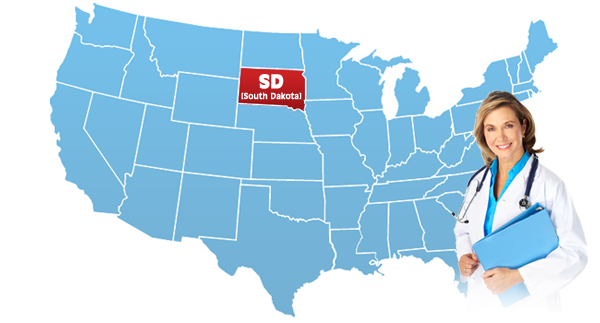 In-class learning covers topics associated with the human body system and medical ethics and law. Laboratory training covers proper usage of common equipment and the detection of the median cubital vein – A vein commonly used in venipuncture procedures.
Certification in South Dakota
Upon successful completion of all training, phlebotomy students are recognized as professional phlebotomists. As such, they receive a credential that is state recognized. These students are not required to obtain a state license. However, seeking national certification from a credentialing agency is recommended as this is requested by many employers. Certification can be obtained from the American Society for Clinical Pathology or the National Healthcareer Association.
Finding Schools in South Dakota
The state of South Dakota helps many students realize their goal of becoming a phlebotomist. This goal is met through the various training programs offered. These programs include a certificate, diploma or an associate degree. While inquiring about training, students will find that a certificate program is typically a two to six week program while a diploma program is typically a three to six month program. They will also find that an associate's degree program is 24 months long.
Template default_template not found in /home/geoims/public_html/phlebotomytraininggroup.com/wp-content/plugins/esnplugin/esnphp/tpl/default_template.html
Southeast Technical Institute is one of the institutions that help students accomplish their goals. This program provides in-depth didactic learning and clinical training. Here, students learn venipuncture skills through intense supervision. These students are well-prepared for entry-level positions in the workforce. This institution is in the city of Sioux Falls. This city has a seat in the counties of Minnehaha and Lincoln.
Working as a Phlebotomist in SD
The average salary paid to phlebotomists in South Dakota usually levels at $23,000. However, this salary can change as seen in the list of cities noted below. This list depicts the average salaries in some of the major cities in South Dakota.
Average salary paid to phlebotomists in South Dakota

| | |
| --- | --- |
| City | Average Salary |
| Aberdeen | $19,000 |
| Brookings | $22,000 |
| Pierre | $23,000 |
| Rapid City | $23,000 |
| Sioux Falls | $22,000 |
| Watertown | $18,000 |
Employment Opportunities for Phlebotomists in SD
The state of South Dakota has many jobs available for phlebotomy technicians. These individuals are exposed to numerous job opportunities as their services are highly requested. Nursing homes, hospice facilities, clinics and blood banks are among the many facilities that request phlebotomy services. These professionals can easily obtain employment in the majority of these facilities with the use of their standard credential and national certification. To seek employment in a blood bank, however, a donor certificate is also needed.
South Dakota has many blood banks that can be contacted for employment. Sanford Health Blood Bank and Community Blood Bank are examples of such facilities. If a phlebotomist is truly desired, a list of your skills should be presented on a well-prepared resume.